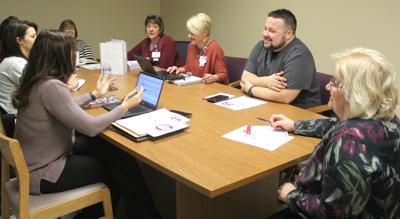 MARY ALFORD/The News-Enterprise
Hardin Memorial Health has taken a pro­active approach to the coronavirus following the World Health Org­an­ization's decision last week to declare the illness a global emergency as the death toll in China jumped to 259 as of Saturday.
"We remain at much greater risk for the flu at this time, but we also want to be proactive by screening all patients that visit a HMH affiliated location for this novel virus," Manager of Infection Prevention Holly Green said.
"This will help prevent unnecessary exposures among patients, healthcare workers, and visitors by immediately identifying a potential case. This will then allow us to implement isolation precautions and other infection prevention and control efforts to help prevent the spread of this illness even further."
The screening, which began Friday, is simple. The first question a patient will be asked is, "Have you traveled to China in the last 14 days? And if so, are you having fevers or respiratory symptoms?"
The second question is, "In the last 14 days, have you had contact with anyone known to have the novel coronavirus or who has had close contact with someone being tested for the virus?"
Answering yes to either of those questions will result in a ticket to isolation to prevent further transmission.
"We are doing this for your safety to keep you safe. We ask everybody across the board. Germs do not discriminate," Green said, noting the strain was first identified in December in Wuhan City, Hubei Province, China.
The illness since has spread quickly, growing to about 8,000 cases worldwide, the majority of which have been in China.
Green said Friday there had only been six positive cases in the United States, none of which were in Kentucky.
By comparison, Green said there have been 107,300 lab confirmed influenza illnesses in the United States.
"Thankfully, the risk (for coronavirus) is very low in our community," Green said. "The flu right now is a greater risk to us than the coronavirus."
Near the end of a group meeting on the topic Friday at Hardin Memorial Hospital, Chief Nursing Officer Sharon Wright said, "We take any threat to public health seriously."
Cases of the virus have been found in Illinois, Washington, Arizona and California.
According to the Centers for Disease Control and Prevention, the United States reported its first confirmed instance of person-to-person spread with this virus Thursday.
On Friday, the novel coronavirus was declared a public health emergency in the United States.